Containment Tanks
Fuel Tank Containment - Secondary Containment Tanks
Tanks for Containment of Fuel and Oil Spills
Whether you are in heavy construction, farming...any industry that requires equipment to be fueled in the field, you'll probably have a fuel storage tank on property. That means that you'll be running back and forth refueling tractors, trucks and other equipment.
With fuel storage in the field, there is always the danger of leaks. You can not afford to be exposed to the additional risk of environmental pollution from hazardous spills. Not only will it mean costly clean-up and possible Federal fines, there will also be job delays. These extra costs and risks can be avoided with the right fuel containment tanks on-site.
We have fuel containment tanks and tubs in several sizes and two different styles.
Our rigid fuel containment tubs and tanks completely contain the fuel tank to avoid leakage from the smallest drip up to complete tank failure. With sizes in the 275 gallon and up to 1000 gallon capacities, you're sure to find the tank your job site needs.
For the more remote sites or for jobs where transportation can be an issue, our foldable secondary flexible containment tanks can be just what you need. These are easily transported and set up onsite and come in capacities from 275 gallon to 1000 gallons.
All are available with our without drains and an optional sump pump is also available.
Don't risk delays, fines and other costly mistakes!
Fuel Tank Containment

Our Rigid Fuel Tank Containment tubs are strong enough to hold hazardous fuel and oil from spills of up to 1000 gallons. Constructed of rugged polyethylene and designed to contain the contents of the tank and the tank itself. Available in 3 sizes: 275 Gallon, 500 Gallon and 1000 Gallon and available with or without the optional cover and options sump pump and drain fittings.
Uses: Use in the field where the fuel tank or oil tank is located on-site. Helps prevent hazardous environmental spills by containing drips, leaks and overspills from the tank while refueling your equipment at the job site.
Flexible Secondary Containment Tanks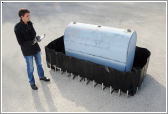 Our Flexible Secondary Containment Tanks are the more portable version of our containment tank line. Designed to be transported folded and assembled on site. Includes sturdy aluminum L-brackets to support the sides. Economical and portable. Available in 3 sizes: 275 Gallon, 500/550 Gallon and 1000 Gallon all with or without drain. Constructed of black polyethylene.
Uses: Use on jobsites where accessibility and/or portability of the containment tank is needed and is more convenient than our rigid models. Transportation and assembly is quick and easy on-site
Our Most Popular Products