Wringer For Absorbents - 3 Models to Choose From
Description: Our hand wringer models include the Economy, Standard and Pro models. The Economy model mounts to the side of an open head 55 gallon drum. The Standard model and Pro model have their own collection trays that fit over a closed head 55 gallon drum and allow the liquid to flow into the drum.
A recent EPA report on absorbent recycling concludes that a wringer could pay for itself in 2.8 to 5 weeks with an annual savings of 51% to 75% on absorbents and disposal costs. For more detailed information see the Wringer Comparison Chart .
Uses: Use to recover up to 90% of absorbed fluids from most sorbent mats, towels or rags. Used by plants, spill clean-up services and car washes. Save by reusing your absorbent pads. The Economy and Standard wringer models will work with flat absorbent pads, towels and rags. The Pro Wringer will work with flat pads, towels, rags as well as with absorbent socks. Electric motor option available for the pro model. Additional product information on order page.
Roll Rack For Absorbent Rolls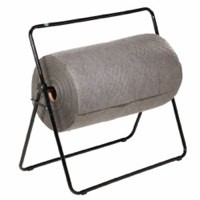 Description: Free standing heavy metal construction. Fits all rolls 15" and 30" wide. Can be assembled in minutes.
Uses: Use to keep rolls of absorbents off messy floors. Have easy access to the rolls when you need them. Additional product information on order page.