Spill containment is a necessary and important responsibility for many businesses. Because spills happen every day. Due to accidents, breakages, leaks, or even negligence and intentional acts.
In the event of a spill, following best practices is essential to protect people and the environment. Particularly when the spill involves a hazardous material.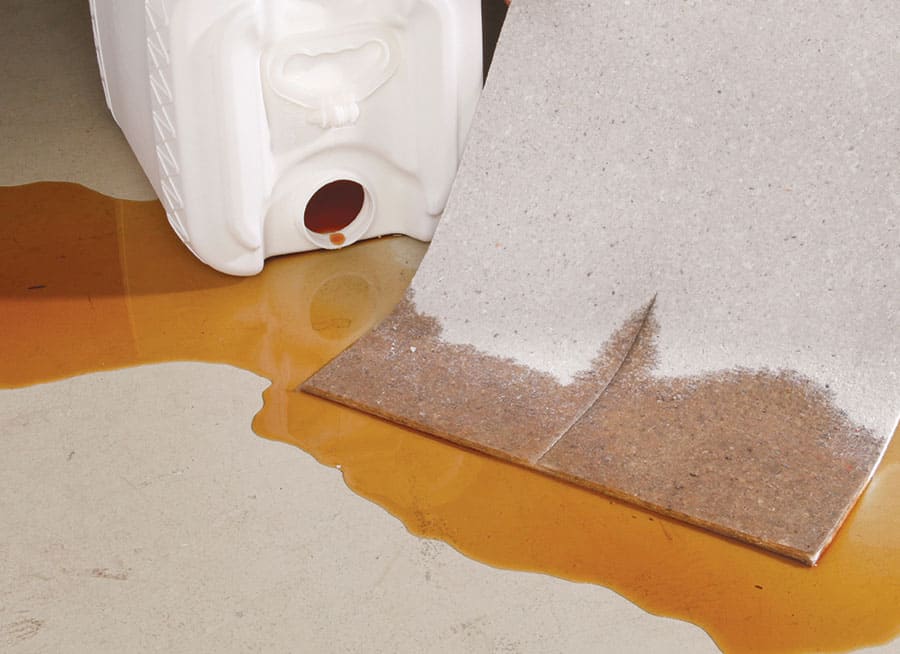 This article will explore some key concepts on what's important for spill containment. Including an overview of spill response regulations and requirements that may apply in your workplace.
How Does Spill Containment Work?
Spill containment means stopping and preventing a spill from spreading. By confining water, chemical, or other hazardous liquids within a barrier or drainage area. Containing a spillage minimizes exposing people, plants, stormwater, the ground, and more to harm or hazardous materials.
This practice fits within a company's spill response plan. Which details how to prevent, control, and clean up potential spills. Being especially important for facilities with hazardous chemicals that could spill and cause harm.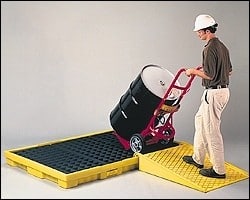 Containment equipment includes things like spill containment berms, dikes, or drainage sumps. Tools such as absorbent booms or socks help deal with smaller spills.
Similarly, secondary containment systems offer a backup spill solution should a primary container or structure fail. For instance, a spill pallet or spill deck can capture the contents of a leaking 55-gallon drum or tote.
Why is Spill Containment Important?
We briefly introduced two reasons why spill containment matters so much: safeguarding people and the environment.
In short, spill containment helps protect your business—and bottom line—by avoiding any or all of the following:
Injury to personnel
Risk of fire or explosion due to flammable material spills
Loss of business and productivity
Land or water environmental pollution
Equipment and building damages
Resource and material wastage
Time and effort for costly cleaning and decontamination procedures
Fines for non-compliance with spill regulations.
Which Spill Containment Rules and Regulations Apply?
In the United States, multiple governing bodies work together to oversee spill regulations. We'll focus on two of the major agencies:
Environmental Protection Agency (EPA)
These two rules require facilities to meet certain criteria and have plans in place. For example, oil production sites as well as some agricultural, farming, and chemical plant operations.
Secondary containment is a requirement for sites using bulk storage containers with a capacity of 55 gallons or more. And a spill plan demonstrating an ability to respond to a worst-case scenario that may cause substantial harm. Worst-case being a failure of the largest container in or on the secondary containment device or structure.
All FRP facilities require an SPCC Plan, but not all SPCC facilities require an FRP. Each plan serves a slightly different purpose and therefore operates as a separate document. Although some sections may duplicate each other.
Refer to the EPA website to determine your facility's spill control and prevention requirements:
For sites with underground storage tanks, Resource Conservation and Recovery Act (RCRA) laws may also apply. Under Title 40 of CFR parts 239 through 282.
The Occupational Safety and Health (OSHA)
Anything spill-related to workplace employees falls under OSHA regulations.
Such as its Hazardous Waste Operations and Emergency Response standard CFR 1910.120 (HAZWOPER). Which aims to minimize spill responders' exposure to hazardous waste that could affect their health or safety. For example, receiving a chemical burn due to a corrosive or acid spill.
OSHA's 29 CFR 1910.22(a)(2) requirement covers keeping workplace walking surfaces in a clean and dry condition. Because any liquid or oil spill coating a shop floor will quickly increase slip, trip, and fall risks.
Additionally, hazmat training programs are a must to educate employees on keeping themselves safe.
Implementing A Spill Plan
You've likely heard the expression that an ounce of prevention is worth a pound of cure. Well, it's no surprise that this saying extends to spills. So even if federal-level spill requirements don't apply to your business, adopting a plan is an excellent best management practice.
The plan should cover everything from hazard identification and prevention, to personnel training and operating procedures, to spill response. Being the countermeasure resources you need to control, clean up, recover, or dispose of spillages.
Learn more in our post, Be Ready with a Job Hazard Analysis and Spill Response Plan.
Conclusion
In the workplace, spills can lead to serious business implications, including health hazards. Employees who come in contact with hazardous substances may get sick or slip over and injure themselves.
If you want to keep your business running smoothly, then you need to implement a spill plan. Make sure to keep the appropriate spill control supplies and containment solutions on hand. Because primary containers can and do fail.
Following best practice spill prevention and containment procedures will help minimize damages caused by any spill incident. Allowing your workplace to remain safe, healthy, and compliant.
If your facility needs sorbents, containment solutions, or advice, then contact us!
Frequently asked questions
What's the difference between a spill kit and a containment system?
Spill kits contain absorbent materials and other clean-up equipment. You use them to help remediate spilled liquids. Meaning the kit contents are usually for one-time use before disposal.
Whereas a secondary containment system is any barrier, structure, or device that will hold a volume of hazardous materials that may spill or leak. Such as a spill containment berm with a primary container like a tote or vehicle inside it. Typically, this equipment is reusable rather than disposable. In many cases secondary systems enable the recovery of spilled products, helping reduce waste (and costs!).
What is the best way to prevent a spill?
Have an emergency response and spill plan in place before any accidents happen.
Be careful when transferring hazardous liquids to avoid potential spills. Use DOT-approved safety cans to transport fuels and other combustibles. Deploy spill berms at fueling stations and when working on oily machinery.
Train workers on how to recognize and control hazards like chemical spills. Ensure they familiarize themselves with safety data sheets for any material kept on-site.
Store chemicals correctly to prevent the container from tipping or accidental damage. Be sure that all containers used for storing liquids are properly sealed.
Use spill decks or other appropriate containment systems with primary containers of 55 gallons or more.
Regularly inspect drums and other containers for signs of damage, cracks, or other wear.
What is the best way to contain and control a spill in the workplace?
First, know the type of spill you are dealing with, be it a hazardous chemical or an oil spill. Immediately communicate and notify necessary personnel.
Make sure spill responders have the right gear. From personal protective equipment (PPE) like gloves and goggles to sorbent pads.
Confine and control the spill. Use a dike or other tool to surround and create a barrier to prevent its spread. Use drain blockers or plugs to protect stormwater outlets.
Stop the source of the spill. If necessary, use emergency leak repair tools to plug and patch container holes.
Use spill kits with absorbent pads, socks, or granular materials to soak up the spilled liquid.
Clean and decontaminate the site as necessary. Then, safely dispose of spent materials following state and federal rules.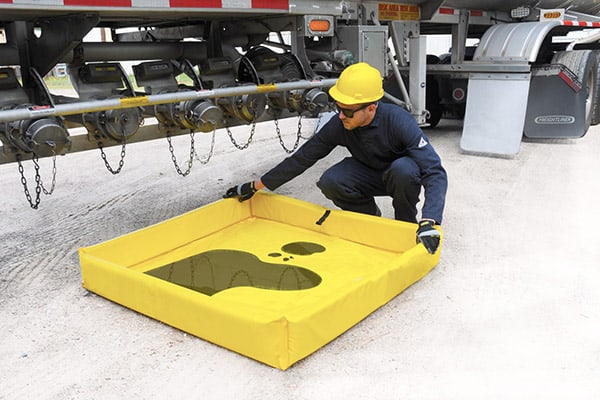 What are the different types of spill containment?
Spill systems come in a variety of sizes, shapes, and use applications. Including spill berms, dikes, pallets, decks, and drainage sumps or plugs. Steel and polyethylene are two of the most common construction materials.
Steel is typically best for fuels, solvents, and other flammable liquids. Whereas high-density polyethylene (HDPE) provides excellent resistance to a variety of chemicals, including corrosives.
Absorbent socks and booms are often useful for handling smaller spills.