Super Lightweight Kitchen Mat for Easy Cleaning
Life Expectancy 3 to 8 Years – Guaranteed 2 Years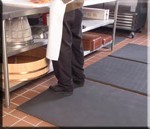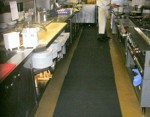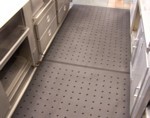 We feel our Anti fatigue Kitchen Mats are the "perfect" kitchen mat. This a floor mat has all of the benefits and features that are a must for any food establishment. World famous commercial kitchen floor mats for use in restaurants, cook lines, food prep areas, hospitals – anywhere standing is required.
Increase Morale – Increase Productivity
Food establishment employees spend hours standing on wet, oily, hard concrete floors doing food preparations and cooking. Providing them with our top quality ergonomically designed anti-fatigue mats at all stations will reduce leg, ankle, foot and back fatigue resulting in increased morale and an increase in productivity. Our anti fatigue mats can help to reduce lost time and workers compensation claims. These mats are ¾ inches thick for added standing comfort.
Reduce Slip and Falls – Less Safety Issues
Food and oils can end up on the floor of kitchens during busy times. Oily and slippery surfaces can result in slip and falls. Our kitchen mats are NFSI tested and approved. The National Floor Safety Institute noted that the non-slip quality of our mats tested 40% higher then other sponge mats on the market. For added safety all mats are beveled on all sides which also allows cart movement on the mats. Safe for all employees because they are latex free, silicone free and non allergenic.
Cleanliness No Longer an Issue
Forget your concerns about the possibility of bacteria, mold or mildew growing on your mats in your food areas. During the manufacturing process a antimicrobial compound is added to prevent bacterial growth, mold and mildew from growing on the mat. This is the only mat we know of that has a anti-microbial agent in the material.
Liquids and fluids cannot be absorbed into the mat because it is made of closed cell nitrile rubber.
Heavy mats are difficult to remove and clean daily as required by most locations. Our commercial kitchen floor mats are extremely lightweight for easy removal. A 3'x5' mat weighs less then 10 pounds. No more heavy lifting. They can be steam cleaned to a maximum temperature of 250 degrees and chlorine, ammonia, bleach or acid based cleaners can be used.
They Come With a 2 Year Guarantee
Due to the quality of these kitchen mats, each mat has a two year warranty against defects in materials and workmanship and against premature wear. Warranty may be pro-rated on material based upon conditions of use. Under normal conditions the life of this product is 3 to 8 years.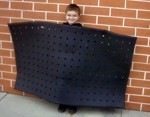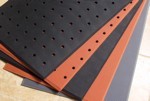 So light a 7 year old can hold a 36"x60" mat.
Kitchen Mats Come In Three colors: Black, Gray or Red Brick (Terra Cotta). Choose your color when ordering below. Order without or with drainage holes (for areas with standing water). Image above shows the mat with the standard hole pattern.
Also available with a bonded 3 inch yellow safety stripe for added safety at an additional cost.
Custom sizes OK.
Let us help you figure our what size mats you need. Send us a diagram of the areas you need matting for. Contact us by email or call toll free (800) 869-9633.
Quick Overview
Mats are ergonomically designed
Reduce leg, foot, ankle and back fatigue.
Insulates against cold, heat and vibration.
Spinal compression reduced.
Better circulation.
Safe to use in freezers or at low temperatures – does not become brittle.
Extremely Light-weight makes for easy cleaning and lower shipping costs
Contact us for custom sizes.
Can be ordered with drain holes for use in standing water.
Easy to clean.
NFSI (National Floor Safety Institute) approved.
Tested 40% higher than any other sponge mats for non-slip surface.
Latex free, silicone free and non allergenic.
Safety bevels on all sides to prevent slip and fall.
Mats can be rolled over easily with carts.
Use in wet or dry conditions.
Guaranteed two years against defects in materials and workmanship, including premature wear.
Expected to last 3-8 years (depending upon conditions).
Resistant to chemicals because of closed cell construction.
Acids, bleaches and other chemicals do not affect the mat for cleaning.
Can be cleaned using steam cleaning equipment (maximum temperature 250 degrees).
Technical Info
Manufactured with closed cell virgin nitrile rubber. Antimicrobial compound is added during the manufacturing process to prevent mildew, mold and bacterial growth on the mat.
Due to expansion or contraction sizes are approximate and can vary plus or minus one inch.
Self-extinguished in 10 seconds, burned ¼ inch per Burn test UL94 HBF.
Here are some studies on why you should be using anti fatigue mats.
EHS Today Study
COBA Europe Study
CMMS Software Insight
OHS Online Article
Please note: All anti fatigue mats are custom made at time of order due to the large number of sizes/options offered. From time of order to delivery can take up to approximately two weeks or more depending upon your location. All mat orders ship from our California warehouse.