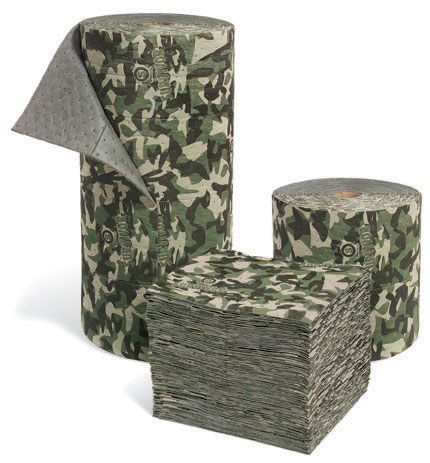 The Camouflage Absorbent Mat makes drips and leaks disappear by drawing and trapping liquids into the inner highly absorbent melt blown layer. The top camouflage layer remains clean and dry so it can stay on the job longer and save you money.
The mat takes the punishment of everyday wear and tear. The ultrasonic bonding of the camouflage spun bond layer to the melt blown and fine fiber layers outlasts the punishment of everyday wear and tear.
Grips the floor for safe walking. The bottom layer of fine fiber is built of densely-woven strands of fiber that increase surface area - enabling the camouflage mat to grip the floor and secure it for safe walking.
Multi - perforations save you money. Survivor mat rolls are perforated every 9.5" vertically and every 17" horizontally. Use only what you need to save money.
Hides Drips and Spills.
Universal absorbent for oils, coolants solvents and water.
Made to last ... tough multi-layers
Item
Description
Our Price
Quantity
ASVRS150H-1S
Survivor Absorbent Rolls Heavy Weight, 15" x 150', 1 roll/case, Absorbs 17.9 gal/roll, Weight 14 lbs. Pallet 30 rolls
72.99
Others Charge:


105.00

ASVRS150H-2S
Survivor Absorbent Rolls Heavy Weight, 15" x 150', 2 rolls/case, Absorbs 35.8 gal/roll, Weight 28 lbs. Pallet 15 rolls
143.99
Others Charge:


197.00

ASVR150HS
Survivor Absorbent Rolls Heavy Weight, 30" x 150' 1 roll/case, Absorbs 35.8 gal/roll, Weight 28 lbs. Pallet 15 rolls
143.99
Others Charge:


197.00
Thank You for Shopping AbsorbentsOnline.com