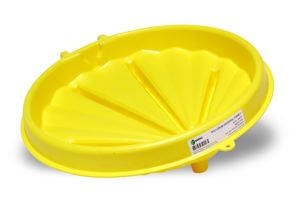 If you're looking for a drum funnel we have the options that will work for you.
Funnels for open and closed 55 gallon drums. Funnels for closed head 55 gallon and 30 gallon drums.
Funnels with screens or without screens. We also have a model with a cover to keep dirt out when not in use
All models are made of durable polyethylene that is chemical resistant. High funnel walls reduce splashing mess when transferring fluids.
It is a good idea to put an absorbent drum top pad under your funnel on closed head drums to catch drips or splashes.
Quick Overview
Two types of drum funnels available
High sidewalls to reduce splashing
Fit any 2" NPT bung
Made of heavy duty 100% polyethylene
Chemical and rust resistant
Saves transfer mess
Impact tested for durability
Funnels for open and closed drum heads
Funnels for 30 gallon and 55 gallon drums
Usually ships within 48 hours
Mobile dispensing and waste collection made easy
Technical Info
100% Polyethylene
Dimensions, sump capacity, load capacity and weights for each product noted below in Description
Drums in pictures not included
Compliance Info
40 CFR 265.173
See Federal Regulatory Compliance Summaries here.