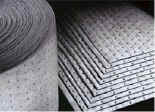 Bonded, high performance all purpose absorbent pads and rolls. Great for oil and water based liquids.
Excellent for industrial plants, machine and maintenance shops. Any These high performance absorbent pads are dimpled to soak up more liquids in less time. Bonded for strength and high absorbency. Dirt masking gray color fosters longer use before disposal.
Lint-free absorbent for all applications. The favorite for industrial applications. Use these absorbent pads where aggressive and non-aggressive fluids are present.
Quick Overview
Fast-acting for quick response
High performance melt blown polypropylene
Sonic bonded to absorb quickly
Dark color fosters longer use
Lint-free spun-bond fabric
Perforated to save you money
Use only what you need
Reusable
Dimpled to help absorption
Mat keeps it shape even if saturated
Spun bond fabric provides added strength
Absorbs all liquids - water and hydrocarbons
Have on hand for general maintenance

On Sale Now

Save on shipping FOB AL, PA, TX, IN, WA or nearest stock
Technical Info
Rolls are perforated every 7.5" vertically and 17" horizontally.
Pads are perforated vertically at 7.5".
Suitable for all water based fluids and all hydrocarbons.
Compliance Info
29 CFR 1910.22(a)(2), 29 CFR 1910.107(b)(3), 29 CFR 1910.107(g)(2), 29 CFR 1910.120(j)(1) and 29 CFR 910.1450(e).