Oil Absorbent Booms
Absorbent Booms at New Lower Prices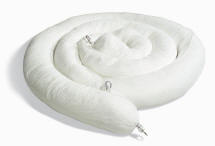 Our oil absorbent booms will float on water even if saturated.
These booms are often referred to as sorbent booms, marine booms, marina booms, sea booms, ocean booms or oil spill booms.
Oil absorbent booms are perfect for the control of and the clean up of oil spills on water.
They can also be used to contain and absorb large industrial hydrocarbon spills on land. These oil only booms repel water which means they will float even if saturated.
Oil absorbent booms can be used to handle all types of hydrocarbon spills such as fuel oils, hydraulic oil, gasoline, diesel, motor oil, jet fuel and kerosene. Not to be used for acids, aggressive fluids or water based chemicals.
Our booms are idea for skimming oil from water. Use them on the ocean, rivers, wastewater troughs, ponds or streams. Great for use on land or water for fuel spills or low viscosity oil.
A must have item for marinas and construction sites near water.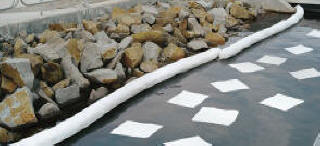 Each boom is constructed with a tough outer mesh skin that encases the super absorbent polypropylene filler. The filler will not shed. A nylon rope runs through each boom and has carbon steel connectors so you only use the number of booms required to contain the spill.
Retrieval is easy with the long lasting, durable linking system.
The oil absorbent booms come in a bright white color to make it easy to see when they are completely fully saturated. With this feature you save money by not replacing the boom too soon.
The booms are available in 5" and 8" diameters and 10 foot or 20 foot lengths. Helps you comply with Federal Regulations 33 CFR 154.1047(c)(2), 40 CFR 112.7(c)(1), 40 CFR 122.26 and 40 CFR 263.3.
Be prepared. Waiting until you have a spill can costs hundreds or thousands of dollars in overnight shipping as well as huge pollution fines.
Shop for Oil Absorbent Booms Now: Shop Now

Super absorbent polypropylene construction.
White in color color to easily see if saturated.
Will float on water even if saturated with hydrocarbons.
Not suitable for water based liquids.
Strong outer mesh construction.
Have sturdy nylon rope with steel clips to easily connect together.
Easy to deploy.
Very easy to retrieve because of quality construction of the linking system.
Cost effective. Use the number of booms needed for the size of spill.
Comply with Federal Regulations.
Special Pallet Prices On All Booms.
(See below for some of the lowest prices anywhere).

Made with polypropylene filler.
Dimensions and weights are noted below in description.

29 CFR 1910.22(a)(2), 29 CFR 1910 .107(b)(3), 29 CFR 1910.107(g)(2), 29 CFR 1910.120(j)(1) and 29 CFR 910.1450(e)
See Federal Regulatory Compliance Summaries here
Shop Oil Absorbent Booms
Item
Description
Our Price Per Case
Quantity
WB410SN
Oil Absorbent Booms, 4 Inches Diameter by 10 Feet Long, 4 Booms per case Absorbs 19.5 gallons per Case, Weight 14 lbs case, Color White
61.67
Others Charge
$107.00
WB410SN
Pallet
20 cases
Oil Absorbent Booms, 4 Inches Diameter by 10 Feet Long, 4 Booms per case,, Absorbs 19.5 Gallons per Case,, Weight 14 lbs case, Color White
52.87
Others
Charge
$107.00
WB510SN
Oil Absorbent Booms, 5 Inches Diameter by 10 Feet Long, 4 Booms per case, Absorbs 30 gallons per Case, Weight 22 lbs case, Color White
74.77
Others
Charge
$107.00
WB510SN
PALLET
16 cases
Oil Absorbent Booms, 5 Inches Diameter by 10 Feet Long, 4 Booms per case, Absorbs 30 gallons per Case, Weight 22 lbs case, Color White, 16 Cases per Pallet
64.77
Others
Charge
$107.00
WB520SN
Oil Absorbent Booms, 5 Inches Diameter by 20 Feet Long, 2 Booms per case, Absorbs 30 gallons per Case, Weight 22 lbs case, Color White
74.77
Others
Charge
$107.00
WB520SN
Pallet
16 cases
Oil Absorbent Booms, 5 Inches Eiameter by 20 Feet Long, 2 Booms per case, Absorbs 30 gallons per Case, Weight 22 lbs case, Color White, 16 Cases per Pallet
64.77
Others
Charge


$107.00

WB810SN
Oil Absorbent Booms, 8 Inches Diameter by 10 Feet Long, 4 Booms per case, absorbs 38 gallons per Case, Weight 32 lbs case, Color White
97.77
Others
Charge


$135.00

WB810SN
Pallet
12 cases
Oil Absorbent Booms, 8 Inches Diameter by 10 Feet Long, 4 Booms per case, Absorbs 38 gallons per Case, Weight 32 lbs case, Color White, 12 Cases per Pallet
86.77
Others
Charge


$135.00

WB820SN
Oil Absorbent Booms, 8 Inches Diameter by 20 Feet Long, 2 Booms per case, Absorbs 38 gallons per Case, Weight 32 lbs case, Color White
97.97
Others
Charge


$135.00

WB820SN
Pallet
12 cases
Oil Absorbent Booms
8 Inches Diameter by 20 Feet Long, 2 Booms per case, Absorbs 38 gallons per Case, Weight 32 lbs case, Color White, 12 Cases per Pallet
86.77
Others
Charge


$135.00
Thank You for Shopping AbsorbentsOnline.com

Industrial Safety Products
Steel Bollard Posts
|
Column Protectors
|
Corner Protectors
|
Forklift Mat
|
Machine Safety Guards - Rack Guards
|
Wall Protectors
Our complete line of spill kits.
Small Portable Spill Kit | Fleet Spill Kits | Duffel Bag Spill Kit | 5 Gallon Pail Spill Kit | 20 Gallon Drum Spill Kit | 30 Gallon Drum Spill kit | 55 Gallon Drum Spill Kit | 65 Gallon Overpack Spill Kit | 95 Gallon Overpack Spill Kit | Small Mobile 50 Gallon Overpack Spill Kit | Large Mobile Spill Kit | Mobile Spill Kit Cart | Mobile Spill Cart Caddie | Mercury Spill Kit | Battery Acid Spill Kit