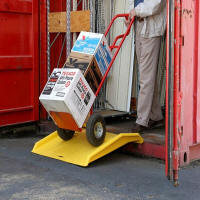 With this container ramp you eliminate the problem of the ramp slipping off the container lip. Most facilities use their loading dock ramp and spend as much time constantly setting the ramp up then they do unloading the container itself. For safety reasons it is best to have the ramp secure.
Our container ramp has a hook-rail that attaches to the door-keepers of the container to keep it secure. The three point contact and support is across the width of the ramp. With a tab that inserts into the keepers you prevent movement of the cart when loading and unloading.
Made of high density polyethylene with UV inhibitors to give you many years of service. Also resistant to cracks, dents and weather. Very lightweight, this ramp only weighs 25 pounds. The color is safety yellow.
Weight capacity is 750 pounds. Dimensions are 36"L x 35"W x 5"H.
This new product makes unloading containers with hand trucks and dollies simple and safe for your workers.
We also carry curb ramp and loading dock ramps.
See our complete selection of industrial safety products. If you do not see what you need or have a specific need contact us toll free at (800)869-9633 or by email.
Click this link to see our complete line of products.
Quick Overview
Technical Info
See details below.
Compliance Info
See Federal Regulatory Compliance Summaries here.