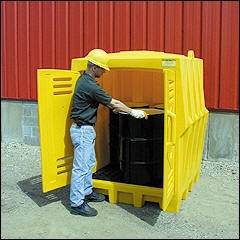 Securely store up to four 55 gallon drums with our outside poly storage building.
The storage container features four-way forklift pockets, vented door louvers, 62 gallon spill capacity, removable grating and top hooks for moving. Note: top hooks are only for moving the building when empty.
Prevent oil runoff and keep your workplace safe and compliant. This storage building is 100% polyethylene construction. It will resist corrosion, weathering, UV rays and is compatible with most aggressive chemicals. Bright yellow color makes it visible for forklift and truck drivers. The pallet has a UDL load rating of 8000 lbs. and fits optional ramp Model 1689.
Quick Overview
Technical Info
Polyethylene construction
Patented removable poly grating
Dimensions, sump capacity, load capacity and weights noted below in Description.
Optional poly pallet ramp for spill pallet.
High Density Polyethylene Chemical Resistance Guide
Please contact us for a freight quote at sales@absorbentsonline.com
Compliance Info
40 CFR 264.175 - See Federal Regulatory Compliance Summaries here.