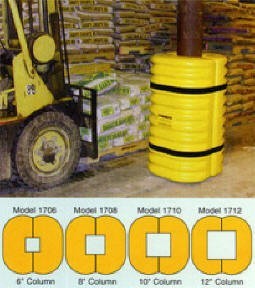 Column Protectors not only provide column and beam protection for your warehouse or factory but also provide safety for your forklift personal. Often columns are painted the same color as the as the walls and are hard to see when moving pallets of product in a large facility.
Our column guards are available in high visibility colors, providing added safety for your employees.
Damage caused by forklifts, tow motor lifts, carts or other vehicles can be prevented with column protectors. They are an affordable solution to stopping property damage and will pay for themselves in no time.They are made of 100% high density polyethylene and absorb impacts. They come in 4", 6", 8", 10" and 12" sizes to fit round or square supports made of steel, wood or concrete. Will withstand an impact of 8500 pounds traveling at 7 miles per hour.
No tools are required for installation. Molded in lock feature prevents slippage and assists in installation. They come in two halves and attach with straps. UV protected. The column protectors can be stacked two high if needed. Column guards are a small investment to prevent damage to your facility and provide added safety for your employees.
Order Column Protectors and Guards Here:
Shop now!
View our complete selection of industrial safety products. If you do not see what you need or have a specific need contact us toll free at (800)869-9633 or by email.
Click this link to see our complete line of products.
Quick Overview
Technical Info
See details below for each item.
Compliance Info