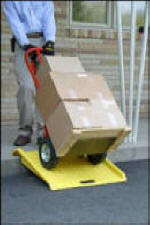 Our curb ramp should be in every vehicle you own if you have a business of delivering heavy goods to retail stores or commercial businesses. Use with hand trucks or wheeled carts to move heavy loads over steps or curbs in an ergonomically correct way.
Constructed with high density polyethylene to give you many years of service. This light weight delivery ramp weighs only 11 pounds and has two rounded edge handles for easy pick-up and carrying. The color is safety yellow.
The load capacity of this ramp is 1000 pounds. The raised non-slip surface provides excellent traction in all weather. One inch side rails prevent you from going off of the side of the curb ramp.
The dimensions are 27"L x 27"W x 4"H. This ramp will work on curbs or steps up to 8 inches high.
We also carry loading dock ramps and
container ramp.
See our complete selection of industrial safety products. Questions? Please feel free to contact us toll free at (800)869-9633 or by email.
Click this link to see our complete line of products.
Quick Overview
Technical Info
See details below.
Compliance Info