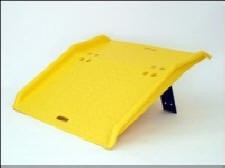 Tired of heavy metal loading dock ramps? This is one of the hottest new products in dock equipment because it cuts the cost and weight of traditional metal dock ramps. This ramp is ergonomically designed, very durable yet only weighs 32 pounds.
Made of high-density polyethylene, it has a load capacity of 750 pounds. High visibility yellow color means your dock employees will not be tripping over your loading dock ramps.
Designed for use with hand trucks, two and four wheeled dollies, carts and pallet trucks. Has beveled entry and exit edges with a non-slip raised surface. This ramp also has two carry handles so it can easily be moved. The legs are black powder coated steel. 4" height differential capability.
The dimensions are 36"L x 35"W x 5"H. Meets OSHA 1910.30 (a) compliance.
For your other loading needs see our container ramps and curb ramp.
See our complete selection of industrial safety products. If you do not see what you need or have a specific need contact us toll free at (800)869-9633 or by email.
Click this link to see our complete line of products.
Quick Overview
Raised non-slip surface.
Beveled entry/exit edges.
750 pound load capacity.
Made of very tough high density polyethylene.
Ergonomic design.
UV resistant.
Lightweight - only weighs 32 lbs.
Resists fading, cracking or rusting.
Use with dollies, hand trucks, carts and pallet trucks.
Two carry handles.
High visibility yellow color.
Black powder coated steel legs
Meets OSHA 1910.30 (a)
This is the hottest new product in dock equipment because of the low cost and light weight. Order today.
Technical Info
See details below.
Compliance Info
Meets OSHA 1910.30(a) See Federal Regulatory Compliance Summaries here.