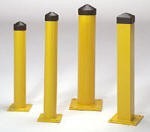 Our steel bollard posts can be used indoors or outdoors to provide safety for your personal as well as providing bollard protection for your work areas, equipment and building. Use them to prevent structural damage, near racks, flammable materials, batteries, machines and for control.
Damage caused by forklifts, carts, tow motor lifts or other vehicles can be prevented with bollard posts. They also can be used to stop vehicles or equipment from having access to an area or to help protect pedestrians from vehicles. Bollards are an economical solution to stopping property damage and can pay for themselves in no time.
Each post is made of 1/4" thick steel (schedule 40) and are mounted on 3/8" steel plates. Plates are pre-drilled with 3/4" holes so you can easily install each post. Anchor hardware is not included.
The safety yellow paint is a baked on powder coat to give years of service and high visibility. The black HDPE post caps can be removed to fill the bollard posts with cement if desired. Post caps are included with each post.
Steel bollard posts are in 4", 5" & 6" round posts and 5" square posts. They come in heights of 24", 36" & 42".
See our complete selection of industrial safety products. If you do not see what you need or have a specific need contact us toll free at (800)869-9633 or by email.
Click this link to see our complete line of products.
Quick Overview
1/4" steel - schedule 40.
Safety yellow color for visibility.
Powder coated for durability
Mounted on 3/8" steel plate
Plate pre-drilled 3/4" holes.
Square or round posts.
Hi density polyethylene caps.
Technical Info
See details below for each item.
Compliance Info