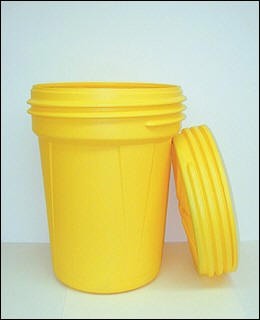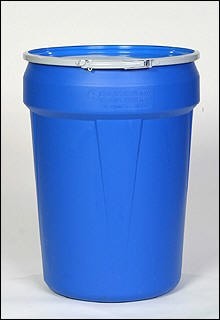 You need lab pack drums if you manage any operation that uses small containers of dry cleaning compounds, strippers, pool chemicals, acids, inks, dyes, degreasers, pesticides, paints, thinners, solvents, bases or any other hazardous chemicals.
Laboratories, medical facilities, warehouses, schools, factories and service businesses that accumulated hazardous chemicals in small (usually under 10 gallons) jars or cans that are contaminated, out-of-date, leaking or are no longer needed should have a plan for proper disposal to avoid penalties. Small quantities of chemicals cannot be disposed of in the trash or down the drain.
Lab pack drums are used to store the material in until it is legally disposed of. Our drums are chemical and weather resistant. They are made of high density polypropylene and are UV protected. All drums are in compliance with DOT regulations so your waste is safe to transport to a hazardous waste disposal facilities as long as it is properly packaged, labeled and shipped according to DOT regulations. If any of the chemicals are leaking, proper absorbents must be used in the container. No free liquids.
Our lab pack drums come in 14 gallon, 20 gallon and 30 gallon sizes. Lid types are plastic lever lock, metal lever lock and screw on lids.
See our complete selection of poly drums as well as the lab pack drums product comparison chart at the bottom of the page. If you do not see the poly drums you need or have a specific need contact us toll free at (800)869-9633 or by email.
Click these links to see our complete line of absorbents andsafety storage cabinets.

Quick Overview
Technical Info
UN Certified to HM 181
UL 94HB Flammability Rating
FDA 21 CFR 177.1520 Food Grade Quality
SPCC Compliant
OK for use with Packing Groups I,II,III
Drip Tested-max weight at 0°F (48 hours) - 6' drop
Stack Tested - 3 high at maximum weight capacity (24 hours)
Operating temperature range -30°F to 130°F
Compliance Info
DOT 49 CFR 173.12
See Federal Regulatory Compliance Summaries here.