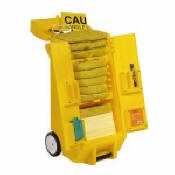 Skinny Caddie Reaches Spills
Our mobile caddie spill kit is a great response cart for small to medium spills. Very convenient. Wheeled so you can take spill clean up supplies right to the spill. Easily fits through narrow aisles and doorways. Packed with everything you need for quick response.
The kaddie spill kit is available with either universal, oil only or hazmat absorbents. Contains safety items such as goggles and gloves. Epoxy putty for emergency patching of a leak and a glow light stick if the power is out is also included.
The easy view compartments keep supplies organized and at hand. You can easily see which items are used/missing so you can replace them so you are not left stranded when another spill occurs. The caddie spill kit is lockable for added safety.
This durable heavy duty wheeled cart will last for many years. Just purchase low cost refill kits when the contents of the cart is used - saving money over the long term.
The caddie spill kit takes up little room. It is ideal for gas stations, loading docks, warehouses, mechanic shops and marine filling stations.
Order below online or Toll Free (800)869-9633
Click this link to see our complete line of absorbent products.
Contents of our Mobile Caddie Kit
Absorbs 29.5 gallons/kit
100 Pads 11"x13"
6 socks 3"x48"
4 pillows 8"x18"
1 pair goggles
2 pair nitrile gloves
3 disposal bag
1 stick epoxy putty
1 glow light stick
1 Emergency Response Book
Quick Overview
Made of heavy duty HDPE
Highly visible bright yellow color
Features top and bottom handles for carrying or wheeling
Filled with absorbents for spills up as well as safety and emergency tools
Absorbs up to 29.5 gallons
Refillable - cost savings
Fits through narrow doorways and aisles
Usually ships in 24 to 48 hours
Technical Info
Cart is 20"L x 40" H x 20" D
Custom kits available
Refills available
Contact toll free (800)869-9633 or email
Compliance Info
29 CFR 1910.120(j)(1) and 29 CFR 910.1450(e) 49 CFR 173.3(c)(1),
40 CFR 263.30(a), 40 CFR 263.31