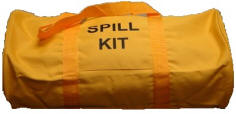 This bright yellow duffle bag spill clean up spill kit is ideal to have around for any emergency chemical or oil spill. Use the sturdy nylon straps to hang the spill kit on the wall or on equipment.

This spill kit has plenty of absorbents for emergency clean up of small spills. Safety goggles and gloves are included for the protection of yourself or your employees.
Packed in a sturdy nylon zipper duffle bag carrying straps for easy transport. Stay safe and compliant with this fleet spill response kit. Available with Universal, Hazmat and Oil-Only types of absorbents. Custom kits available.
Quick Overview
Very visible bright yellow sturdy nylon bag with zipper and carrying straps.
Helps you comply with DOT/EPA
Compact
Can be hung on wall or equipment.
Water resistant
Plenty of absorbents for spills up to 8 gallons
Safety products included such as goggles and gloves.
Refillable
Save on shipping, light weight - FOB CA.
Usually ships in 24 to 48 hours
Contents of Fleet Spill Kit

25- Absorbent Pads
3- Absorbent Socks - 3"x4'
1- Pair Nitrile Gloves
1- Pair Safety Goggles
2- Disposal Bags.
Top quality duffle bag filled with top quality absorbents at low prices.
Technical Info
Kit bag size - 22"L x 11"W x 11"H
Absorbs 8 Gallons (amount absorbed is approximate - varies due to fluid type)
Custom kit available.
Compliance Info
29 CFR 1910.120(j)(1) and 29 CFR 910.1450(e).33 CFR 154.1047(c)(2), 49 CFR 173.3(c)(1), 40 CFR 263.30(a), 40 CFR 112.7(c)(1)