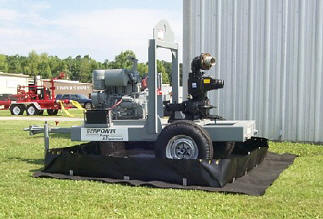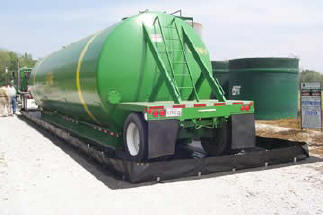 Our Top Seller Secondary Spill Containment Berm
An economical spill containment berm that is perfect for containing spills. This berm provides an economical and efficient means of containment
100% Usable Interior Space
By utilizing exterior aluminum "L" bracket supports, you get a sturdy side wall that provides excellent containment. Having the brackets of the wall on the outside means they do not take up interior space like many other berms
Set up By Simply Inserting Aluminum L-Brackets
Secondary spill containment berm set up is easy and can be done in in minutes. To setup 1) unpack the berm 2) place it where you want it 3) unfold 5) insert brackets. To move equipment or vehicles in or out of the berm remove the brackets from one end of the berm.
These fuel containment berms conform to federal and military regulations. 40 mil polyethylene material is appropriate for petroleum based liquids, fuel, water, chemicals and others.
Chemical compatibility chart link below under technical Info. This is our best selling Secondary Spill Containment Berm!
Track mat and ground mat options available.
Track mats are used on top of the berm floor to protect it if you are moving equipment in and out frequently. Ground mats are used under the berm floor and are recommended if you are using the berm on dirt or gravel. If the berm is used on asphalt or concrete generally a ground mat is not necessary. Let us help you decide if you need these items.
Please contact Sales@AbsorbentsOnline.com for large quantity discounts or for a freight quote. Custom sizes are available upon request.
Quick Overview
Economical Secondary Spill Containment Berm.
"L" Bracket Side Wall Supports.
Chemical and UV Resistant.
Setup is easy.
Can be cleaned and stored for repeated use.
Meets EPA and SPCC requirements
40 Mil PVC material
Other materials available
Made in USA
Technical Info
Secondary Spill Containment Berm Chemical Compatibility Chart
Please note that the sizes can vary 1 to 2 inches due to the effects of heat or cold on the material.

Compliance Info
Federal Regulatory Compliance Summaries here
WE WELCOME REQUESTS FOR CUSTOM SIZES MADE TO ORDER! Call (800)869-9633 or email us.
Allow production lead time for custom sizes of 5 or more business days. Varies based upon demand.
Sizes noted below as in stock and ready to ship usually ship within 24 hours from our Louisiana warehouse.
Need a Freight Quote or Price Quote for Large Quantity Orders? Contact Us.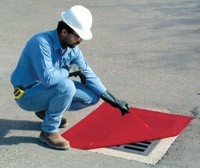 As a back-up have our Drain Cover Seals on hand.